A complete package for all your Optometrical needs.
- Simple to use
- Powerful
- Low cost
- Highly effective
- Strong marketing support


The software manages:
- Clients
- Examinations
- Contact Lenses
- Spectacles
- Stock
- Lens orders
- Appointments
- 2yr Recalls, Lens order reminders, Jobs due
- Invoicing and accounting.
- Marketing to Contact Lens and Spectacle Clients



The Main menu


The Main menu gives quick access to frequently used functions like Data Entry, Order List, Stock management, 2 year Recall listing, Patient Review listing, Contact Lens Order Reminders and Jobs due.

Data entry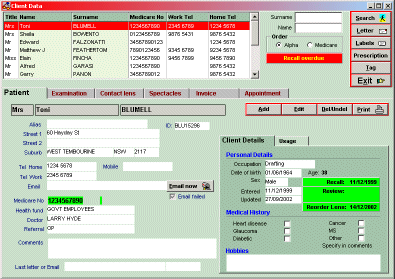 Data entry has one page for each type of information, Client or Patient, Examination, Contact lens, Spectacle and Invoice. Appointments may be added to the list in the future.
The Add, Edit, Delete and Print buttons are available on each page. The print button displays a context sensitive list of possible printouts relevant to this context. For example below is the Examination and the Invoice print selections.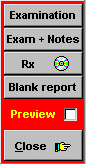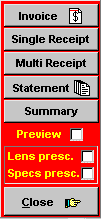 Examination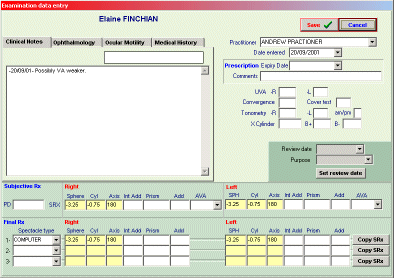 The examination contains 4 note areas of unlimited size: Clinical Notes, Ophthalmology, Ocular Motility and Medical history. There is room to store 3 types of spectacle with their respective final RX which can later be copied to the patient spectacle. A review date in included if the patient need to be followed up.

Contact lens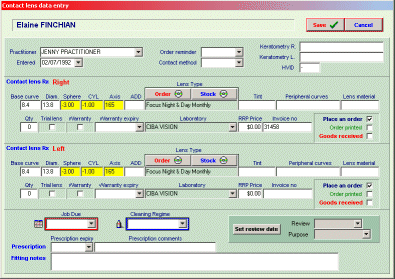 The contact lens has buttons for ordering from a lab or using your own stock. A stock control mechanism is also provided. At the end of the day Fax orders can be printed by Labs and reception of the goods can be monitored.

Spectacles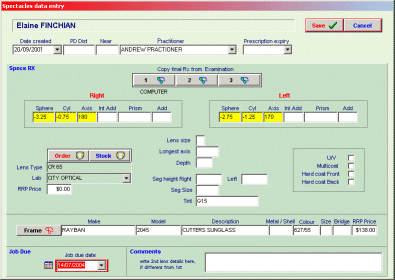 Data from the Examination can be copied over to the spectacle, lenses and frames can be ordered or taken from your own stock.

Invoicing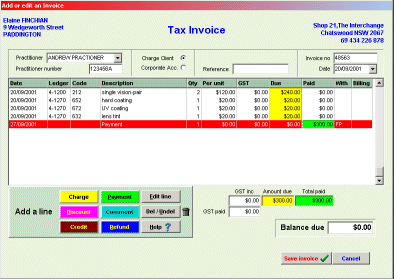 The invoicing is slimline and easy to use. Many functions are available to manage your accounting, including a monthly Summary report, which is all you need to transfer monthly figures to your accounting package.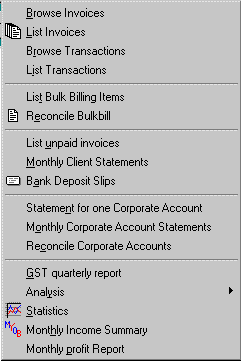 The above menu give you access to all an extensive set of accounting reports and features.

Marketing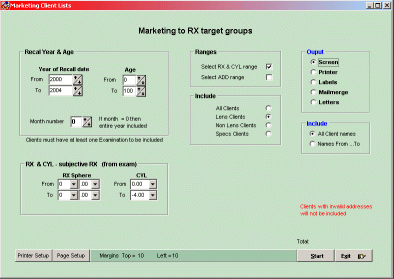 The marketing feature above allows you to target lens users for specific products to maximise your exposure and let clients know about new products. A similar feature is available to target contact lenses by type and supplier.

Appointments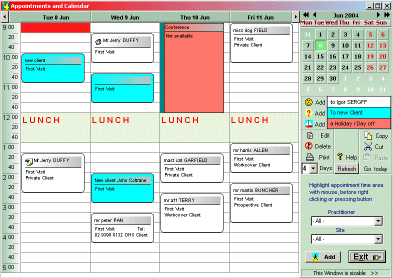 An integrated Appointment manager is included to manage appointments. Multiple Practitioners can be view at the same time or separatly. Clients can be booked directly from the main screen. For existing clients, Name, Telephone and status is shown in the appointment.

Letters & Emails
A built-in template letter & Email system allows you to print letters or send emails for one client, for a group of clients or for a client doctor. Template letters, a simple yet powerful, form of Mailmerge can be used to mail Clients for a variety of purposes like marketing, re-ordering contact lennses etc.
The software is highly configurable so that it reflects the way you want to work. The behaviour of many features can be altered to suit your needs.



Demonstration program



You can download a working demonstration copy of the program, by clicking on the button above. Once the demo is installed, the manual is available in the install folder as Manual.pdf

Requirements
The software will run on any current computer, with windows XP, Windows 7, windows 8 and 8.1, or MS Server.


Availability
Available now.



Technical Support
Free technical support by telephone and remote sessions is available for a period of six months after purchase. This include free updates if available during this period. Technical support can be renewed on a yearly basis.


Pricing
Payment modality is within 14 days, we accept company cheques, Credit cards (Visa, Bankcard & Mastercard only) and direct deposit
| | |
| --- | --- |
| Single user | $1980.00 |
| Multi user ( Network version) | $2340.00 |
| Yearly technical support & updates | $341.00 |
All prices in Australian Dollars, including GST.



Ordering
To contact us, send e-mail to
Call us on 02-9592-4603
International +612-9592-4603