The Claim Wizard Pro is a Client database for the PC. It is designed to help manage Hearing aid Claims and simplify the management OHS "Claim for Payment" forms and allow Electronic posting of the claims (E-Claim) to HIC with a minimum of effort and rejects.
It is compatible with all versions of Windows including Windows 8.1, Windows Server and Virtual Server (32 and 64 bits)

The Claim Wizard Professional Edition includes all the functionality of the original Claim Wizard (See Claim Wizard page for details) and adds a substantial number of new features.



The additional features are:
- Visit
- Hearing Aids
- Repairs
- Batteries
- Notes
- A full features Template Letter system.
- Hearing Aid order forms
- Repair Order form etc..



Data entry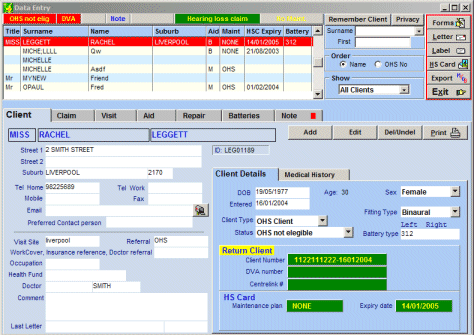 Go top
Functions are available to print the OHS claim forms, print labels, Print letters based on your letter templates, print HS Card and export data to MYOB or QuickBook



E-Claiming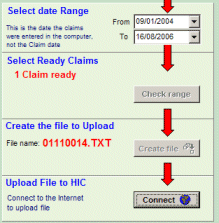 Claims can be processed electronically to simplify the claiming process and decrease the amount of paperwork. Rejects are identified the same day and can be corrected and re-sent the next day.
The process of uploading the Claims has been made very simple, just follow the red arrows as in the Upload screen shown here. The program guides you each step of the way.

Electronic Voucher Lodgement
Voucher request and Verification, as well as change of client address can be lodge electronically.



Client Letters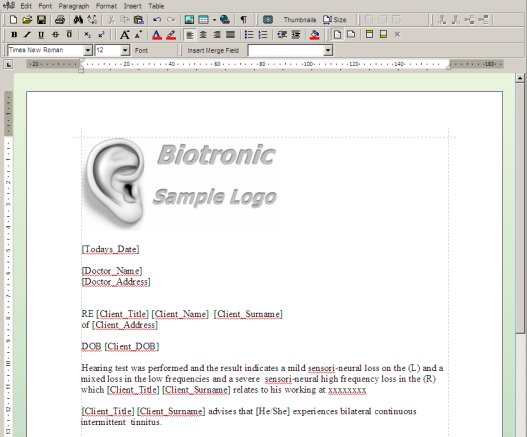 A comprehensive and intuitive letter system allow the creation of letters for single or multiple clients based on Template letters with Merge fields. Such letter can be used for mailing to clients and Doctors, for Maintenance and Batteries renewals etc.. The letters are compatible with MS Word (rtf format).
A built-in editor allows creation and editing of templates. The software comes with a set of sample templates which can be used right away.



Client Listings
The software includes a powerfull reporting engine with all the listing and reporting tools required to manage the clients of a small practice. Reports and lists can be exported in pdf and rtf format for exchange with other programs (Argus / Genie / Medical Director etc..)



SMS Messages
SMS Messagess can be sent to individual clients or to groups of clients, directly from within the program. A simple registration is required with an SMS gateway. Specific information is provided in the program to do this, and you will be able to send SMS messages immediately.

Managing Hearing Aids
Hearing aids can be stored and allocated to clients as they are chosen. They can be searched by serial number, date fitted or warranty expiry. Repairs can also be logged and managed drawin g from the aids fitted to the clients.


Requirements



The software will run on any PC and runs on all versions of Windows, including the latest Windows 10 (32 and 64 bit). as well as MS server 2012, 2016 and 2019. Minimum screen resolution is 1024 x 768.


Availability
This software package is available now. It comes on a CD with a printed manual and on-line help files.



Technical Support
Free technical support and remote assistance is available for a period of six months after purchase. This include remote support, remote training and free updates if available during this period. The technical support can be renewed on a yearly basis.

Pricing
Payment modality is within 14 days, we accept company cheques, Credit cards (Visa & Mastercard add 2% to listed price) and direct deposit
| | |
| --- | --- |
| Single user | $1750.00 |
| Multiuser version (for network) | $2110.00 |
| Single user to Multiuser upgrade (for network) | $360.00 |
| Upgrade from Claim Wizard | $650.00 |
| Yearly technical support and updates, after the inital 6 months free support and training has expired | $341.00 |
| Credit card payments, add 2% to listed price | + 2% |
All prices include GST.



Ordering
To contact us, send e-mail to
Call us on 02-9592-4603
International +612-9592-4603