This software is intended for Audiology departments in hospitals and clinics.



Contains
The software is designed to help manage all aspects of Diagnostic Audiology:
Patient data, Medical History
Hearing test Air / Bone, Speech, Tympanometry
BOA, BERA, OAE, ENG and VEMP (Vestibular function).
The software also includes Notes, To-do List and CRM (Customer Relationship Management).



Data Entry

.

Hearing Test Air / Bone / Speech
Entry of Air and Bone conduction with masking. The audiogram is configurable and can print as single or double audiograms. The symbols are user selectable.
Speech can be selected between single or multiple tests.


Go top

Speech single test



Speech multiple test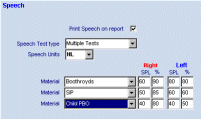 Test interpretation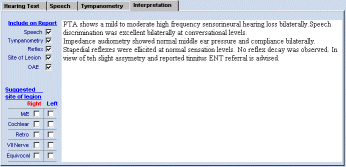 The Interpretation Editor
The interpretation uses an editor similar to MS Word and connects to your MS Word spelling checker.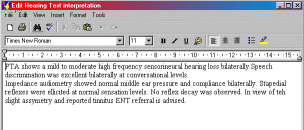 Tympanometry
A Tympanometry test is attached to the hearing test, the BOA and the BERA, so that it gets integrated into any of these tests.

BOA
Results are entered in the form of an interpretation.
Go top
BERA / ABR
A different result template is available for Adult and Paediatric BERA. The adult BERA also allows for entry of an optional wave V plotted graph.
Adult BERA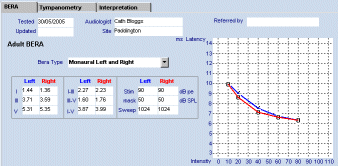 Paediatric BERA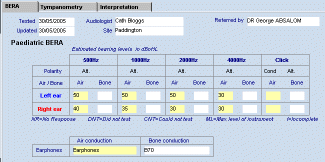 OAE
A flexible system of reporting allows for the OAE results to be printed with other tests if performed.
ENG / VEMP
Vestibular function data entry is supported. ENG points can be entered separately and the means and percentages calculated automatically.
ENG and VEMP can be entered separately

To-do list
A To-do list is available with a Patient and global view.
CRM (Customer Relationship Mgmt) Report Logging
When enabled this function will automatically record each report, letter and email when printed or sent. This greatly facilitates the tracking of reports.

Reports
Report can be customised by loading a personalised logos. The report designer allows selection of Logo placement and size. The software manages the reports to save paper by using available space whenever possible.
A comprehensive set of printing parameters can be altered to configure which test to include on reports.
These parameters are saved with each test, making the reports flexible and easy to use.
Go top

Requirements



The software requires any PC computer and will operate with all version of Windows, including the latest Window 10. Minimum screen resolution is 1024 x 768.


Availability
Available Now.



Technical Support
Free technical support by telephone is available for a period of six months after purchase. This includes free updates during this period. The technical support can be renewed on a yearly basis.

Pricing
Payment is within 14days. We accept company cheques, Credit cards (Visa & Mastercard only) and direct deposit
| | |
| --- | --- |
| Single user | $4048.00 |
| Multi-user | $4400.00 |
| Optional additional yearly technical support and updates | $341.00 |
All prices are in Australian Dollars and include GST.

Go top



Ordering
To contact us, send e-mail to
Call us on 02-9592-4603
International +612-9592-4603