It is compatible with all versions of Windows including Windows 8, Windows Server and Virtual Server (32 and 64 bits). It is very simple to use and produces a report with an audiogram and a breakdown of the percentage loss per frequency. The report can be produce in 2 different formats to suit.

It comes with a setup menu to select parameters like:
Graph line colour
Background colour
Normal values
Print method
etc..



Saving data
Setup data and Client Data can be saved to disk and loaded later on for review.



Data entry
Data is entered in the window displayed below. Air and Bone thresholds can be entered. Calculations can be based on Air or Bone. The Bone conduction symbols can be changed and the Bone conduction point can be displayed as joined if required.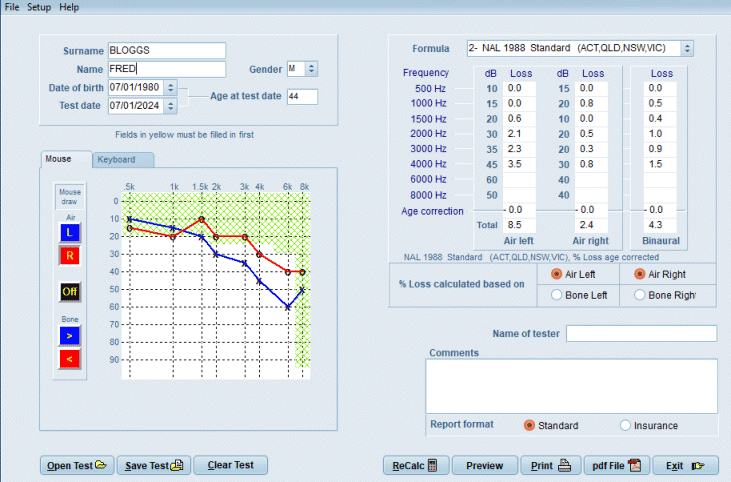 Go top




Calculations
The percentage loss of hearing according is calculated according to Australian based formulae.}Three formulae are supported all based on the NAL table & formula.
1- Old NAL (1976 tables)
2- Current NAL (1988 tables & formula NSW, VIC, QLD)
3- Extended NAL (Based on the current tables + 6K and 8K) as used in WA

The thresholds can be entered with the mouse or the keyboard



Report
2 report types are available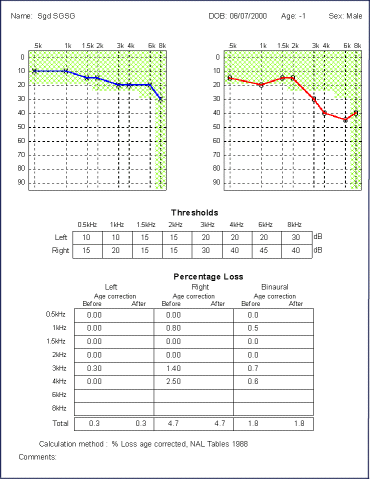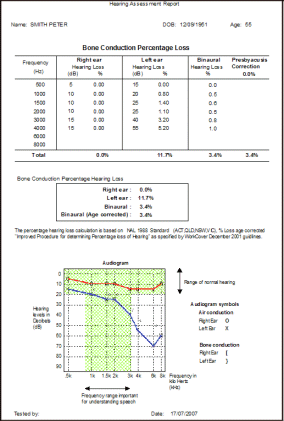 The report can be previewed, printed or saved directly as a pdf file.


Configuration
The program has 2 configuration menu options, one for the display, the other for the printout.


Requirements



The software will work on any version of Windows, including the latest Window 8.1 . Minimum screen resolution is 1024 x 768.


Availability
This software package is available now. It comes on a CD with on-line documentation.



Technical Support
Free technical support by telephone is available for a period of six months after purchase. This include free updates if available during this period.

Pricing
Payment modality is within 14 days, we accept company cheques, Credit cards (Visa & Mastercard only) and direct deposit
| | |
| --- | --- |
| Percentage Loss Calculator | $220.00 |
| | |
All prices include GST



Ordering
To contact us, send e-mail to
Call us on 02-9592-4603
International +612-9592-4603