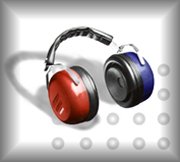 Download an information booklet
Download the manual
Download USB to Serial Adaptor Driver

The Workplace Audiometrics software will take the boredom out of mass Audiometry testing, reduce the chances of error and provide the employers with a workable Hearing Conservation Scheme.
The Package can manage the following:
1- Employee's personal data
2- Employment history
3- Medical history
4- Hearing Test threshold data, including base line
5- Hearing protector
6- Bone / Spirometry / Tymp
7- Potential Liability calculations
8- Assessment of Audiological results against Regulation and Standards from around the world
9- To Do List

It can generate comparative Reports to indicate the onset of Hearing Loss and save on hefty compensation claims.

Threshold tTest results are stored separately from personal, demographic and medical data so that an unlimited number of tests can be stored for each employee.



Simplicity of use
All the options and commands are easily accessible and clearly presented. Hearing Assessment available with one click of the assessment button




Quick assessment of results
Assessment can be obtained with a click of the "Assessment" button. Positive tests can be easily identified.
Current tests include the Australian Standards, Regulations for each Australian state, New Zealand, US and Canadian regulation, Rio Tinto, OSHA. Train Driver, Tram Driver and Call center operator. Some of these tests include comparison of current test with either last test or baseline test as stated in the Standard.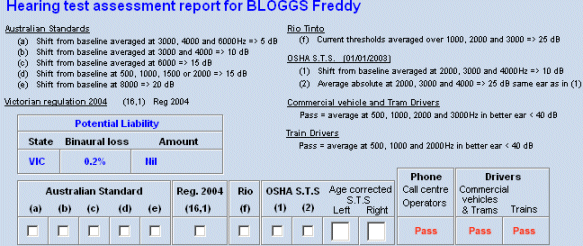 Data Entry
The employee data covers employment history and Medical history.
The test data. Data can optionally include Tympanometry , spiro metry and Bone conduction. Some audiometers allow capture of Air and Bone (AD 27)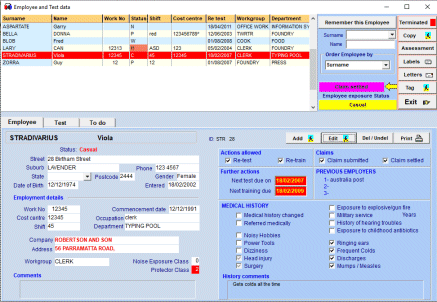 The Employee data entry screen

The Test data entry screen, Thresholds can be captured automatically from the audiometers listed below, entered via the keyboard or the mouse, by clicking in the audiogram grid.
Go top



Automatic Data Transfer from Audiometer
Automatic / Manual Tests Automatic hearing tests can be performed with one of the audiometers listed below and data transfered automatically to the computer. Manual tests and entry of archived or baseline data are also supported.



Audiometers Supported for data capture
Oscilla SM 910 / 930 / 950 / 960
Earscan, Microlab
Maico 780, MA800, MA30, MA15, MA25 & MA25e
Tracor RA 300 / 400 / 500
Rexton/Danplex/Siemens AS 53 / 54 / AD63
Interacoustic AD27/ AD226 /AD229 /AS216 / AS219 / AS608
The Affinity 1 & 2 and the Aurical Noah modules
GSI 66/67
Madsen Xeta
Danplex 300a
Affinity, Aurical & MedRx
Amplivox 170



Reports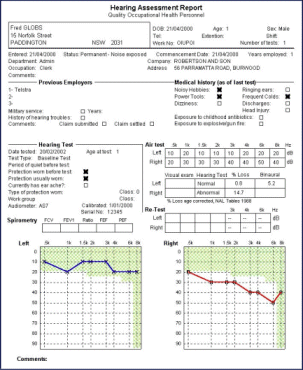 The above report shows an audiogram report. The report is highly configurable and can show Air conduction, Bone conduction Tympanometry and Spirometry, as required.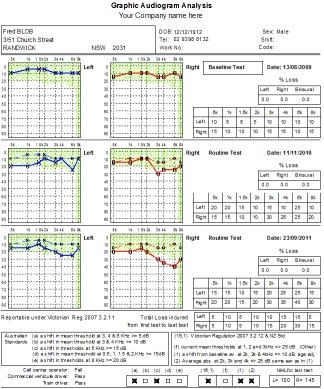 The above report shows all test in graphic format with the Baseline over printed on each test for comparison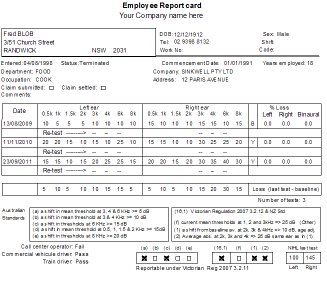 This is the Report card showing all tests for one employee, with the loss over the time range.
At the bottom are the results of various standards for assessment.
The extensive list of reports include Reg 2007 3.2.11 for VIC, Test comparison, baseline shift, standard US OSHA Report, Lists & Mailmerge, and Potential liability, Form 411 for WA, While person impairement for NSW and ComCare and more.



Emailing Reports
All reports can be previewed, printed or saved directly as pdf or rtf files for saving in Argus, Medical Director or Genie . They can be attached to emails to Doctors or Specialists. For privacy reasons they can also be password protected.

Percentage of Hearing Loss
The Percentage of Hearing Loss is calculated automatically. A special detailed loss report is available for compensation and insurance claims.



Template letters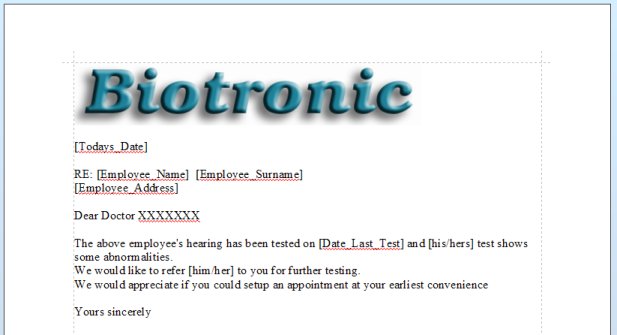 A letter system in incorporated in the software for ease of use. Sample Template letters are included. More can be created with the built-in editor.
Merge fields can be inserted to automatically gather the relevant Employee or test data. A spelling checker is incorporated into the letter with Live spelling capability. This system is very easy to use and very effective.

Go top



International Standards
The program support the following country standards
-Australia (including state specific reports)
-New Zealand
-Canada
-USA
-Malaysia
Each standard is supported with specific reports to support that standard. These standards have been incorporated on request from users from theses countries.



Test Comparisons
Many reports are available covering Regulation in all Australia states and some other countries like Malaysia, New Zealand, the USA and Canada. there is also an option to design your own reporting criteria and to save that criteria for later use, if none of the current reports are suitable.
See below the Report and List menu options. Please note that new reports are regularly added, so this list may not be complete at the time of viewing.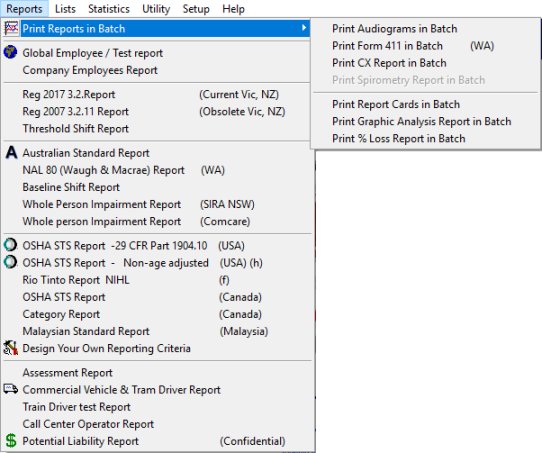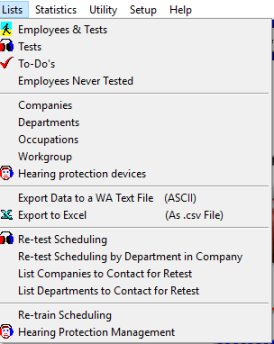 Other reports include the following:



Hearing Protection Management
Allows you to spot unsuitably protected Employees.



Australian Standards 1269
The program can optionally support the latest Australian Standard for Hearing Tests. This includes a re-test at 3, 4 & 6kHz. Reports can include the mean results to comply with the standards.



Your own Standards
The program has an option to create your own standard criteria. You can create several sets and save them to be re-used at a later stage. There are enought selection parameters to cover any criteria.

Re-Test Management
Re-Test Management Lists Employees in who need to be re-tested, allowing you to plan and manage timely re-tests. Re-test gap can be adjusted as required by local regulations.



Training Management
Allows you to plan and manage training in advance.
The listings available are:



Demonstration program
You can download a working demonstration copy of the program here. This is a live working demo, limited to a number of entries and with the setup option disabled. Once the demo is installed, the manual is available in the install folder as Manual.pdf

Tutorial
You can select and watch a number of tutorial videos by clicking on the button above.

Requirements
The software will operate on all versions of Windows including Windows 10 (32 and 64 bit).


Availability
This software package is available now. It comes on a CD with a printed manual. The software has on-line documentation. If you specify one of the audiometer supported, we also supply a free computer interface cable.



Technical Support
Free technical support by telephone is available for a period of six months after purchase. This include free updates if available during this period. Technical support can be renewed on a yearly basis.

Pricing
Payment modality is within 30 days
| | |
| --- | --- |
| Single user version (Ver 5) | $1980.00 |
| Multi user version, 5 users on a single site (Ver 5) can be cloud based | $2340.00 |
| Multiple sites, cloud based, per additional sites after purchase of above | $140.00 |
| Upgrade from earlier version to latest version | $990.00 |
| Network upgrade from single user licence (5 users on a single site) | $360.00 |
| Additional physical site Licences after first full price purchase | $360.00 |
| USB to serial Adaptor, for laptop without a serial port | $55.00 |
| Yearly technical support (includes update CD, with latest legislations & Standards) | $286.00 |
| Credit card payments, add 2% to listed price | + 2% |
All prices in Australian Dollars, (inc GST)



Ordering
To contact us, send e-mail to
Call us on 02-9592-4603
International +612-9592-4603